Dr. Bill Rabon
grew up in Fair Bluff, Columbus County, and graduated from West Columbus High School as Student Body President in 1969. In high school, Bill became an Eagle Scout and received the American Farmer Degree, the highest honor bestowed by Future Farmers of America. After attending North Carolina State University for his undergraduate education, he received his Doctor of Veterinary Medicine degree from the University of Georgia in 1976. Brunswick County's first veterinarian, Bill is a partner in Brunswick Animal Hospital, Southport Animal Hospital, and Oak Island Animal Hospital. Bill has volunteered his services to and worked tirelessly for numerous abandoned pet and rescue groups. He is a member of the North Carolina Veterinary Medical Association and the American Veterinary Medical Association.
Bill served as Vice Chair of the Brunswick Community College Board of Trustees. He is past Chairman of the North Carolina Pilotage and Navigation Commission and past Chairman of the Brunswick County Board of Health. He has served on the Boy Scouts of America Executive Committee, Cape Fear Council and is a Charter Member of the Southport Rotary Club.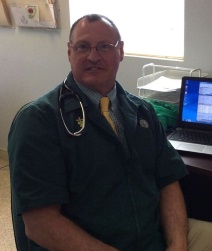 Dr. Lyne
is a second generation veterinarian who started working at his father's practice when he was just ten years old. He would continue his family's love of veterinary medicine by graduating from Mississippi State's College of Veterinary Medicine in 1998. His internships included working with Dr. Ako and Dr. Caspers of Feather and Fur Animal Hospital in Kailua, Hawaii practicing Avian exotic medicine; an orthopedic surgical internship with Dr. James Milton in Birmingham Alabama and continuing TTA (Tibial Tuberosity Advancement) surgical training with Dr. Jeff Mayo. Dr. Lyne has also developed a modified surgical technique for neutering sugar gliders with multi state patient referrals.
He settled in the Outer Banks of North Carolina where his many years of work in a small, high volume, highly successful hospital gave him the opportunity to expand in areas of medicine which he greatly enjoys. Specialty surgeries, orthopedics and complex diagnostics are just three of the areas that Dr. Lyne has been greeted with every day. He is a member of the North Carolina Companion Animal Academy (NCCAA) and the American Veterinary Medical Association (AVMA). However, by far, his biggest love is for his clients and his patients. He is known as the "Kind Doc" with the easy smile and his clients often view him as part of their extended family.
In early 2016, Dr. "H.O." Lyne and his wife, Kimie, decided to move closer to their daughter in Wilmington. They are both excited to be part of the Southport Animal Hospital team. They look forward to building a new life in the Southport/Oak Island area and fully embrace becoming part of the community.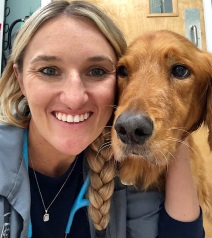 Dr. Lauren Gallagher
grew up in Albany, NY where she was introduced to veterinary medicine at a young age. She graduated from the University of Richmond with a bachelors degree in History and Russian. Dr. Lauren then attended Ross University School of Veterinary Medicine in St. Kitts and finished her veterinary degree at Tufts Cummings School of Veterinary Medicine outside of Boston. She moved from the chilly northeast with her dogs to Brunswick County where she has served the local community for the past few years. She very much looks forward to serving the Southport community and helping you and your pets in every way that she can.
Dr. Lauren enjoys spending time on the water and traveling with her husband Clay. They share 3 dogs; Eloise the St. Bernard, Fern the Husky mix, and Regina the Rat Terrier, as well as one polydactyl cat named Ernest. She looks forward to meeting you all!
We look forward to meeting you and your pet!
Menu Navigation
Doctor Availability Hours
| | |
| --- | --- |
| Monday | 9-12 and 2-5 |
| Tuesday | 9-12 and 2-5 |
| Wednesday | 9-12 and 2-5 |
| Thursday | 9-12 and 2-5 |
| Friday | 9-12 and 2-5 |
Contact Us
Phone Number: (910) 457 - 5051
Fax Number: (910) 457-0506
Find Us At
4955 Southport-Supply Rd SE
Southport, NC 28461
Right beside Comfort Suites
(On Hwy 211)
View Larger Map